Mitsubishi Electric Around the World
Special Event Germany
Committed to the Future
Mitsubishi Electric Europe B.V. – German Branch
Susanne Thormählen works as a Corporate Communications Expert at the German Branch of Mitsubishi Electric Europe B.V. in Ratingen.
Susanne is part of the social media team and responsible for designing flyers, advertising materials, presentations and much more. In addition, she is organiser and project co-ordinator of the changes.AWARD, a business plan competition for students.
For four years now, participants have been coming from Ratingen, Düsseldorf and the surrounding area for the changes.AWARD, which is organizsed by the German Branch of Mitsubishi Electric Europe and the friends' association of the Industrial Musem Cromford e.V. The number of participating students is growing every year and with it the interest of the press, so that the changes.AWARD has become an important event in the region.
Preparatory and background work for the changes.AWARD is very intensive, as it extends from the beginning of the year until summer, when the awards ceremony takes place. Students develop their business plans during this time period and hold final presentations to a jury, which selects the three best ones. The highlight of the event is the award ceremony with the announcement of the winners. Susanne's work includes creating the event agenda, informing all involved parties and sending invitations to the ceremony guests, including partners, customers and company employees. She also designs the awards and certificates for all participants.
The ceremony takes place during the Cromford Park Festival in Ratingen, where the visitors can experience the product ideas of the participants. Entertainment is provided by a Japanese drum group called Lion. Susanne accompanies students, teachers and coaches as a guide through the event until the highlight — the announcement of the winner teams.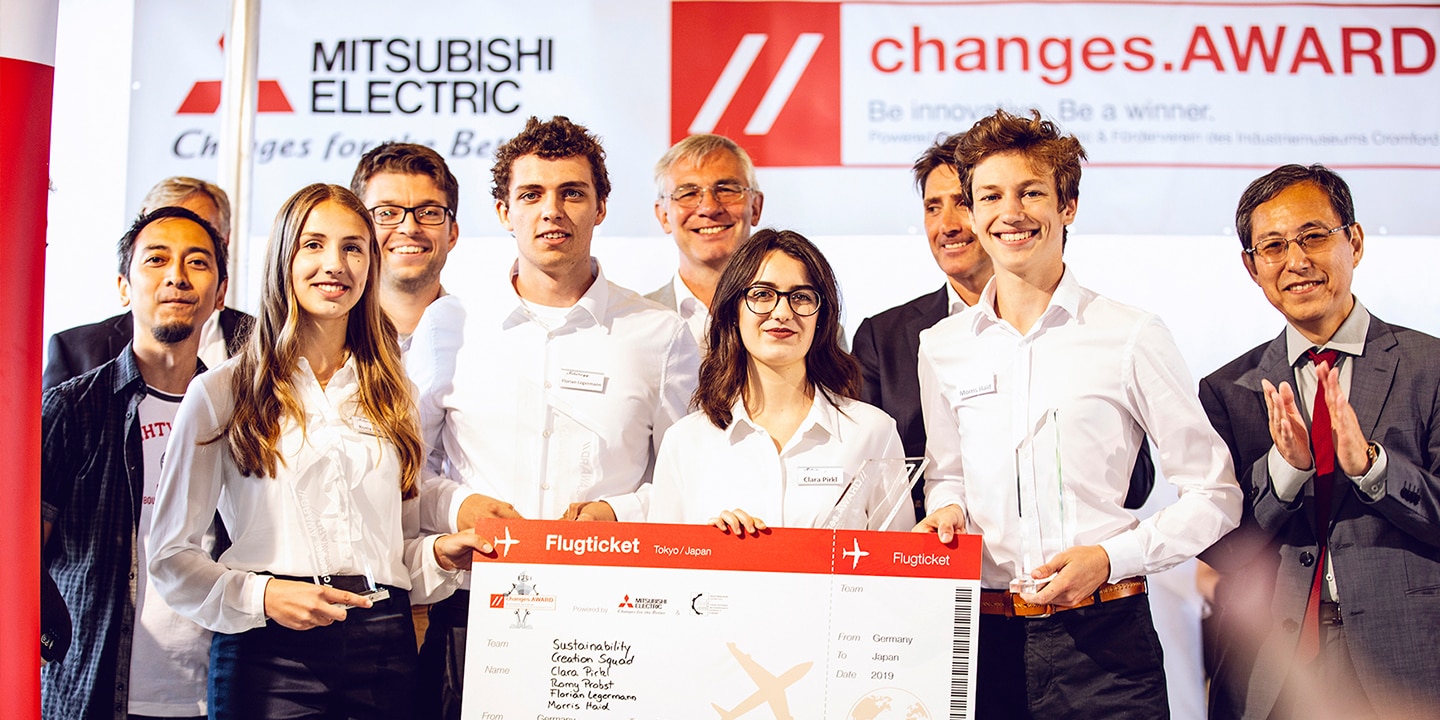 The award ceremony takes place in a festive atmosphere with high-ranking guest speakers including the mayor of Ratingen, the Japanese Consul General and the President of the German branch of Mitsubishi Electric Europe. All teams stand together on the stage and the guest speakers forward the awards to the three winning teams.
For Susanne the best part of the changes.AWARD is to see how the students grow beyond themselves. In the beginning the students are shy and insecure, but their self-confidence grows during the course of the project work, and at the award ceremony everyone is very proud to present their ideas to the public. The pride is justified because the project ideas are innovative, future-oriented and well thought out.
Mitsubishi Electric always considers the next generation, and offers students the opportunity to get a head start and to gain insights into business life, preparing them for future challenges as professionals.
Mitsubishi Electric Platz, home of the German Branch of Mitsubishi Electric B.V. in Ratingen near Düsseldorf
---
For more information